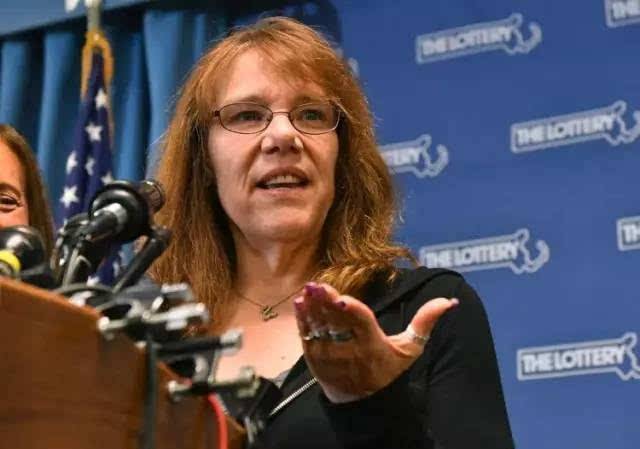 The woman who purchased the sole winning Powerball ticket has been identified as 53-year-old Mavis L. Wanczyk from Chicopee, Massachusetts, who came forward last Thursday to claim her $758 million jackpot winnings.
购买唯一一张威力球中奖彩券的女子,已于日前被确认是来自马萨诸塞州奇科皮的53岁的梅维丝·华兹克,她于上周四前来领取了价值为7.58亿美元的奖金。
Wanczyk purchased the winning Powerball ticket at the Pride Station And Store in Chicopee, Massachusetts. She becomes the winner of the largest single-ticket Powerball jackpot in history.
华兹克是在马萨诸塞州奇科皮的骄傲加油站便利店购买了这张幸运彩券的,她成为了史上金额最大的单张威力球彩券的获得者。
Wanczyk, a mother of a daughter and son, says she chose the winning numbers based on her family's birthdays. She says she does not plan to return to her job at a local hospital.
有一个女儿和一个儿子的华兹克称,她是根据家人的生日选择了中奖的数字。她表示自己不打算再回到当地医院工作了。
Lottery officials said Wanczyk chose to take a lump-sum payment of $480 million, or $336 million after taxes, the Associated Press reported, rather than a larger amount spread out over many annual payments.
据美联社报道,彩票中心的工作人员表示,华兹克选择一次性提取4.8亿美元的奖金,即税后3.36亿美元,而没有选择每年提取一部分、获得更多的奖金总额。
Wanczyk said the first thing she'll do is take some time off.
华兹克称,自己要做的第一件事就是休息一段时间。
I just want to sit back and relax, Wanczyk said. "I had a pipe dream, and my pipe dream has finally come true. I wanted to retire and it came early."
华兹克说:"我只是想坐下来放松一下。我曾经做过白日梦,不过我的白日梦终于实现了。我一直想退休,而现在我终于可以提前退休了。"