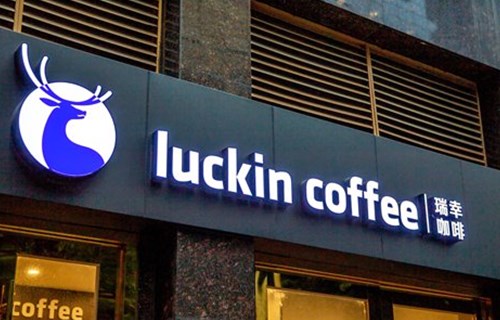 Beijing-based Luckin Coffee, a domestic rival of Starbucks of the US, said it aims to become China's largest chain coffee brand in the number of outlet stores and sales this year.
Luckin 咖啡总部位于北京是美国星巴克(Starbucks)的国内的竞争对手。该公司表示:"其目标是在今年的门店数量和销量方面,成为中国最大的连锁咖啡品牌。"
Luckin plans to open 2,500 more stores this year to raise the number of its coffee outlets to more than 4,500 nationwide, Qian Zhiya, founder and CEO of Luckin, said on Thursday at a meeting in Beijing. Achieving that goal would take it past Starbucks, which has more than 3,600 stores in the Chinese mainland market.
Luckin创始人兼首席执行官钱治亚周四在北京的一次会议上表示:"Luckin计划今年再开2500家门店,计划将全国范围内的咖啡店数量增加到4500家以上。星巴克在中国大陆市场拥有3600多家门店,实现这一目标后将超过星巴克。"
Qian said that Luckin, which started trial operations on January 1, 2018, had sold 89.68 million cups of coffee by the end of last year and opened 2,073 stores in 22 domestic cities.
钱治亚说:"Luckin于2018年1月1日开始试营业,截至去年年底,我公司总计销售了8968万杯咖啡,先后在国内22个城市开设了2073家门店。
Luckin aims to tap the great growth potential of the Chinese coffee consumption market, Yang Fei, co-founder and CMO of Luckin, told the Global Times on Thursday.
Luckin联合创始人兼首席营销官杨飞周四对"环球时报"表示:"Luckin的目标是挖掘中国咖啡消费市场的巨大增长潜力。"
Yang said that annual average per capita coffee consumption in China is four cups, compared with more than 200 in countries like Japan and South Korea.
杨飞说:"中国的人均咖啡消费量仅为4杯,而日本和韩国等国家的人均咖啡消费量超过200杯。"
Luckin posted a net loss of 857 million yuan ($124.7 million) during the first three quarters in 2018.
Luckin公布2018年前三个季度净亏损8.57亿元人民币(1.247亿美元)。
Yang said the loss was "within expectations," and Luckin will keep offering discounts to consumers in the next three to five years as part of the company's long-term growth strategy.
杨飞说:"这一损失在预期范围内,作为公司长期增长战略的一部分,Luckin将在未来3至5年内继续向消费者提供折扣。"